Mantra Aqua Resort

,

Nelson Bay, Port Stephens
- self contained spa apartments set around a resort pool and right in the heart of Nelson Bay.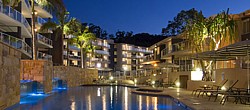 This is a
stunning spa property, ideally located close to all the areas local attractions, overlooking the hypnotic waters of Nelson Bay.
Your perfect base from which to explore the sand dunes and many secluded beaches, take a dolphin cruise or a whale watch cruise, go fishing, surfing or just stretch out on the beach and do nothing at all! You choose! Check online rates and package deals and book securely online.

Choose your dates and availability right now by clicking here ...
Daily local weather update with LIVE (update most days by 11am) webcam pictures of Port Stephens!
Click REFRESH button on your browser for latest update.
Port Stephens on the spot forecast & outlook:-
Thursday January 10, 2002
Port Stephens Weather: Conditions as at 7.30am this morning - sunshine coming through, forecast top of 27°, water temperature is a very warm 21° and it's gonna be a AWESOME day to be up here in Port Stephens. Forecast top tomorrow of 28°.
Beachwatch ( from today's Newcastle Herald ): It''ll be warm and partly cloudy on the coast today, very similiar to yesterday so it will be quite good around the beaches. The winds will start out from the south-west before heading to the south-east later while the swell is from the south-east around 1 to 1.3m. Wave conditions will be cleanest early with the southern corners having the better surf. Water temp is 21 degrees. High tide at6.52am - 1.7m and 7.22pm at 1.2m. Low tide at 1.38pm at .5m.
Friday & Saturday: forecast is fine and warm all weekend!
Paul's Port Stephens Outlook: ... If you've been to Port Stephens before, then you'll know how fantastic summer weather can be. If you haven't been here and are tossing up whether or not to take a break - TAKE A BREAK FROM WORK THIS WEEK AND COME UP HERE this weekend! Fishing, bushwalking, BBQ on the beach, dolphin cruise, hire a boat yourself - millions of great things to do up here!
A Dawsons Dolphin Cruise starts at just $12 for adults and $9 for children - family tickets are also available. Great day coming up!
If you're not planning to be here - you're missing out a great weekend coming up!
Johno's 4x4 Stockton Beach Fishing Tours fishing report: click here

| | |
| --- | --- |
| Stockton Sand Dunes | 7.30am 03.01.02 |
| | |
| --- | --- |
| Nelson Bay Marina | 7.30am 03.01.02 |
| | |
| --- | --- |
| CruiseIn to Marina | 7.30am 03.01.02 |
| | |
| --- | --- |
| Fly Point to CruiseIn | 7.30am 03.01.02 |
| | |
| --- | --- |
| Tomaree Headland | 7.30am 03.01.02 |
| | |
| --- | --- |
| Shoal Bay | 7.30am 03.01.02 |